We offer flexibility in the heart of Europe
Ostend-Bruges International Airport (OST Airport) Ideal Location
Ostend-Bruges International Airport (OST) is located in the Western part of Flanders, Belgium which is close to all major European industrial and consumer markets. The airport is easy accessible via the road- and rail network and seaports in the vicinity of the airport. The airport's cargo activities grew 150 % in the last two years. 
Ostend-Bruges International Airport stands as a pivotal link in Flanders'extensive transportation and logistics network. The airport is known for its 24/7 fast and flexible cargo-services, does not apply slots and does not have capacity restrictions. Strategically located on the intersection of major European transit routes, OST Airport offers an unparalleled advantage for air cargo operations. The region surrounding OST Airport exists of a large uncongested motorway network. This ensures that air cargo operations face minimal disruptions and can maintain a consistent pace, leading to no significant loss of time. This efficient operational environment, combined with Flanders' strategic positioning in Western Europe – bordering the Netherlands, Germany, France, and enjoying a direct link to the UK through the Eurotunnel – makes OST Airport a premier choice for businesses and logistics providers aiming for unmatched speed and reliability in cargo transport. The airport is less than one day by truck from the largest European cities, thus reaching around 400 million consumers.
 Moreover, OST Airport complements Flanders' robust sea, road, and rail networks. Being in a region that houses major seaports like Antwerp, Ghent, Zeebrugge, Ostend and Calais (to the UK), it amplifies the potential for multimodal freight solutions. Furthermore, its proximity to three prominent train freight corridors in Belgium augments the seamless movement of goods across the continent.
The airport keeps investing in the cargo activities and is building – via the Cargo Village project – 48.000 m2 of additional warehouse facilities, this in cooperation with Versluys Logistics.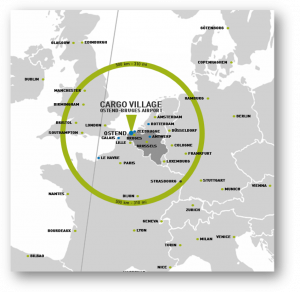 OST Airport profile
24/7 flexible and efficient airport operations

3.210 m / 10.500 m runway

Aircraft code 4-E

24/7 cusoms presence

On site EU veterinary inspection post

Fire bridage CAT 9

Specialized in all kinds of cargo 

25.000m² warehouse facilities for all kinds of cargo

7.000m² of refrigerated and freezer facilities for perishable goods

Dedicated cargo apron with multiple wide body stands

Continuous investing in the future of air cargo

Digitalisation of the cargo process (OST Cloud by Nallian)

No slots

Fast turnarounds
Ostend-Bruges International Airport (OST Airport) has distinguished itself in swift and efficient cargo aircraft operations. The streamlined procedures, coupled with state-of-the-art infrastructure, enable quick turnarounds for cargo planes. The absence of congestion, both on the tarmac and on the motor ways in the area, ensures that cargo flights experience an excellent on time performance. This efficiency not only optimizes the operations of logistics companies but also boosts the overall cargo throughput of the airport, solidifying OST Airport's reputation as a pivotal hub for rapid cargo transport in Europe.
OST Cargo Brochure
Find out more about OST Cargo in our Cargo Brochure.
For more information please contact eddy.myngheer@ostendairport.aero and ann.vanpraet@ostendairport.aero
Airport fees
All information about our airport fees can be found here.
For more information please contact eddy.myngheer@ostendairport.aero and ann.vanpraet@ostendairport.aero
Cargo Village
OST Airport continues to invest heavily in cargo operations, and in collaboration with Versluys Logistics, we are currently constructing the Cargo Village project. This ambitious venture will encompass 48,000 m2 of new state-of-the-art warehouses designed to accommodate all types of cargo. The first facility, boasting a spacious 12,300 m2 warehouse along with 1,500 m2 of office space, has been completed and is now ready for use.



 Air Cargo Contacts
Click here for a list of cargo brokers.
Click here for a list of forwarding and customs agents.
Click here for a list of handling and fuel companies.
Click here for a list of customs and police contacts.
Click here for the contact details of the veterinary inspection and Federal Agency for the Safety of the Food Chain
Contact our cargo team
Deputy CEO Ann Vanpraet, ann.vanpraet@ostendairport.aero
Business Unit Manager, Eddy Myngheer, eddy.myngheer@ostendairport.aero
OST Airport is trusted by: