VIP lounge
Wacht in alle rust uw vlucht af in onze VIP lounge, gelegen in Hall A naast de Horizon. Geniet van een hapje en drankje in de comfortabele zetels.
Meer info: https://www.vip-selection.be/nl/extra-services-vip-selection
Restaurant Belair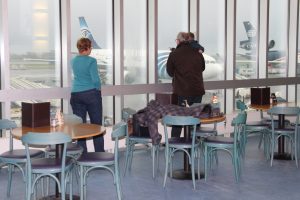 In het restaurant Belair (passagiersgebouw, eerste verdieping) vindt u warme en koude dranken, kunt u kiezen uit een waaier van warme en koude snacks en kunt u een heerlijke maaltijd nuttigen.
Ondertussen geniet u van een prachtig uitzicht over de landingsbaan.
Meer informatie: www.belair.be.
Grand Café Horizon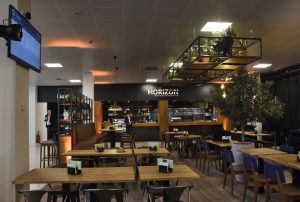 Grand Café Restaurant de Horizon bevindt zich in de vernieuwde vertrekhal van luchthaven Oostende-Brugge. U kunt er terecht voor een 'Grab & Fly', lunch, diner of gewoon een kopje koffie.
Opgelet: enkel toegankelijk voor passagiers met een geldige instapkaart.
Meer informatie: https://dehorizonoostende.be
RUNWAY 26=08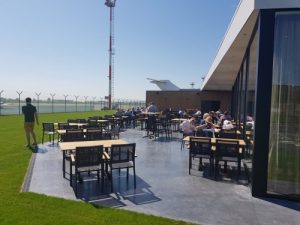 Nieuw restaurant langs de start- en landingsbaan van Luchthaven Oostende-Brugge. Een huiselijke omgeving, verrassende kaart en uniek panorama-uitzicht. Verwen uw smaakpapillen en geef uw ogen de kost! Of u nu komt lunchen, dineren, feesten of vergaderen, Restaurant Runway 26=08 staat garant voor genieten. Vanuit elke hoek van ons restaurant heeft u fraai uitzicht op de start- en landingsbaan van luchthaven Oostende-Brugge. U kunt de vliegtuigen bijna aanraken!
Meer informatie: http://runway2608.be/
Duty Free Shop
Net na security kan u ook in Luchthaven Oostende-Brugge shoppen naar behoren. Ontdek ons assortiment aan parfums, chocolade, dranken en snoepgoed.